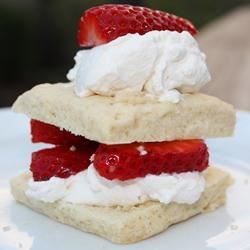 I grew up migrating around Texas most of my life. I lived in several different cities throughout the great state including Pasadena, which is a suburb of Houston known for refineries and strawberries. "Stink-adena" held an annual strawberry festival that my dad and I both attended and manned a booth for. At the festival you could buy strawberry in any flavor from daiquiris and bread to homemade jams. They even had a booth for a giant Texas shaped strawberry shortcake that was about as big as my living room. I remember almost making myself sick each season as I gobbled up buckets of berries the size of my hands. I have always loved strawberries, especially when they are paired with a tender shortcake and big dollop of cream. You can easily convert store bought biscuit mix into a quick fix shortcake but they don't compare to the tender flaky dough of a homemade version. This entire recipe is created in a food processor, so it is appealing to even the laziest of cooks. But, you can't forget the brushing of the cream and sprinkling of sugar crystals right at the end. That sends them over the top. I top these babies with anything from peaches to ice cream but my favorite has, and will always be strawberries.
Shortcakes- Makes 6-8
1 1/2 c All Purpose Flour
3 Tbsp sugar
2 Tsp baking soda
1 Tsp salt
1 Tsp baking powder
Zest of 1 orange or lemon
Place all of the above ingredients into the bowl of a large food processor and pulse until blended.
1 stick of cold butter cut into cubes
1/3 cup cold heavy cream, plus 2 Tbsp.
1 egg
Gently dump a few cubes in at a time to the processor and pulse 3-4 times. Repeat until you have added all of the cubes. Pour in the cream and egg and pulse just until the dough comes together. Dump out the dough onto a lightly flour surface and pat down unto an even rectangle that is about 3/4" thick. Cut into 2x2 squares, or if you are feeling fancy you can use a mason jar to cut into circles. Place onto a lightly greased cookie sheet.
Gently brush the tops of the shortcakes with the remaining cream and sprinkle with sugar crystals (available in the baking aisle at a craft store or Walmart in the cake aisle). Bake at 350 degrees for around 14 minutes until set. If they get too golden they will be overcooked and not as delicate.
Enjoy Y'all!